"And so our story begins....
Welcome to the universal
Future Class Academy
sponsored & runned personally by the
All Titan Alliance of Earth (ATA)
and located right at the heart of the beautiful
Hawaiian Islands
and right next to its capital city
Honolulu
.
Here in Future Class......gifted humans, mythical creatures and empowered beings from all over the universe are taught how to control & wield their powers for the greater good and most if not all join the academy in the hopes of graduating and becoming a member of the ATA themselves. Stories of the heroic deeds performed by Allied heroes have spread far and wide across the galaxy and their fame has even reached through other dimensions, spurring many more to join and pledge themselves to the cause.
Students of the FCA are not always confined within the vicinity of their school-grounds during lesson periods. Often then not, they will be sub-divided into teams and taken on dangerous missions together with their mentors in order to learn and gain experience first-hand on the battlefield. Missions can span from fighting supervillains on earth itself to battling demons, angels, god-like aliens, time-traveling conquerors and primordial beings on other worlds and in different time-lines. As an Future Class scholar you'll find yourself paired up and working with individuals originating from places you've never even heard of and each accompanied with different cultural/personal backgrounds that you'll find interesting.
As a teacher in the academy though, you're a superhero/heroine in-charge of protecting the school as well as guiding your students throughout their time there. Your main task?....to ensure that these new generation of young guardians will become worthy enough to take their places beside you in the future and protect the rest of the world from the evil to come.
Here's to the hopeful success of the BT4W RP *cheers*

Unfortunately I do not have a school-map yet but what I can tell you is that its practically like any other ordinary high-school with the exception of six things.....
1) It has its own built-in virtual-warping Battle Stadium

2) There is a large armoury located underground for emergency purposes

3) It is equipped with three

Beam Gates

that leads to practically every major city around the world.

4) Is technologically protected by a sophisticated A.I named

KARA

and has protective magical barriers erected all over the place by Earth's Sorcerer Supreme.

5) There is a large docking bay for mechas and space-crafts of all kinds

6) Definitely the most awesomest school ever!
---
Below is a little bit more info about Future Class Academy for those of you who want to know more...
Overview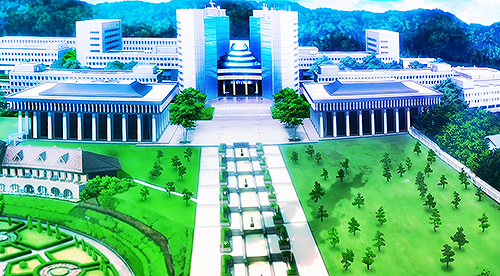 The FCA was part of a 50 billion military project that was brought about by
Beifang Solutions
and the United Nations in a co-joined effort to protect Mother Earth from anymore future alien invasions as well as to promote peace & prosperity throughout the entire known universe. So legally,
The Injustice Family
led by Prey (The principal btws) owns the place but the entire ATA has been given beneficial ownership over it.
House X
Most of the normal/temperate-behaved students will be sharing dorms or rooms with each other in
Camp Alma
(the main campus). But the more dangerous/aggressive & anti-social ones will be placed separately within
House X
together with The FCA principal herself. Once a month, the students there will have to attend a special psychiatric session to discuss about their problems or violent tendencies in the hopes that they can be rehabilitated for the better.
The Garden of Eden
FCA has its own paradisiacal park filled with nothing but peaceful serenity and loving solitude. No magic is needed here in-fact and many students naturally come to this place to de-stress themselves and relax
Life in the Academy
FCA students are all issued a standard iTablet in place of books and other normal academic resources. Their classrooms feature state-of-the-art technology in the form of digital interface programs & electronic visual display systems. KARA is also always available for students who need help or guidance in anything but their schoolwork.
---
Now there are a couple of things I would like to make clear before continuing....
Weaknesses -



Every hero/villain must have a weakness unless it is God Himself. So I took the liberty of creating three basic ones that can be utilised at anytime and against any char.



Obsidian:

Volcanic glass that is capable of siphoning off magic. Place a wizard into a steel cage or cuff him with steel cuffs tainted with obsidian and he/she becomes powerless.



Zetium:

A rare metal that is as hard as iron and is often found buried deep within the North & South Poles. It is the only kind of metal immune to magic and any mystical powers. So in short.....magical energised or constructed shields/armor is useless against bullets/weapons made out of Zetium.



Helicon:

A very rare blue crystal almost as rare as Iridium. Helicon is the ultimate kryptonite for most empowered alien beings.



All chars must be vulnerable to at least one out of the three if not all

.
On villain/neutral characters -



I will have to warn you that at the beginning of the IC, villain chars will have practically nothing to do and will have zero involvement with the main plot until later on. You are allowed to create neutral chars though....who join the academy just for the education....and then character-build them into joining the ATA or falling into the path of villainy if you want. You can also create as many characters as you like but you must at least have one of them studying/teaching within the JHS or else whats the point?
On mythical/alien & other species or races -



You are allowed to create your own alien species but for anything supernatural or mythical.... you'll have to stick to the already existing ones.
On demi-gods & Op-like characters -



You want to create a character that has the powers of superman?...then go ahead, I don't really mind. But remember that no matter how powerful he/she/it is, neither of them can be immune to all of the three weaknesses listed above. Abuse your char and I'll get an AGA member to lock them up in a metal box filled with Zetium/Helicon/Obsidian. Of course....this is not a good reason for all of you to create OP-powered characters. I will still be limiting them as much as possible
On the Universe, Dimensions and Alternate timelines -



There is only one Universe but countless of other alternate dimensions. You can create chars originating from an alternate earth but please refrain from making alternate versions of other people's characters. Also...there is only ONE Hell and One Heaven. No alternate versions of either one
On Fights/Matches & Battles -



We will use real-life examples from real battle tournaments to judge a fight. Example match ends when one surrenders or is unable to fight. If time runs out and both are still fighting it's a draw, If both become unable to fight at the same time it's a draw (Or you wait to see who recovers first to decide the winner).

Unable to fight doesn't necessarily mean unconscious, while this is the most obvious one, it can also mean too exhausted to do anything or trapped in a way he/she can't do anything and is unable to escape.

The draw when time runs out and both are fighting, also applies if one person is on his/her last strength barely able to stand and the other is mostly unscathed (and maybe even on the point of doing the last blow)if time ends this still would be called a draw.
Art of War/Tactical Training
Majikkujutsu/Mystical Martial Arts
Innovative Science/Creative Technology
Extraterrestrial Social Studies
Physical Education/Environmental Survivalist Classes

(

Compulsory

)
Kendo/The Way of the Sword
[/list]
Information Technology/Hacking
Yoga/Meditation

(

Compulsory for all House X members

)
Moral & Motivational Studies

(

Compulsory

)
---
Rules
1. My word and those of my appointed Co-Ops are law here.
2.
Everybody must at least have a character studying/teaching in the FCA
2. Don't try and pull anything stupid.
3. No metagaming and be fair to other RPers.
4. Don't be the guy that ruins the OOC for everyone. Take it to TG if you have a problem with a player.
5. Proper grammar, third person, past tense posts. No one liners if possible.
6. Any questions or unsure about something please feel free to ask around
7.
All villains who want to pull of a really nasty plan, please inform me first or TG me or to discuss about it.
---
Student/Hero/Neutral Application
Code: Select all

[b]Name:[/b]
[b]Alias:[/b]
[b]Species:[/b]
[b]Planet/Dimension of Origin:[/b] (if any)
[b]Age:[/b]
[b]Gender:[/b]
[b]Side:[/b] (Hero/Anti-Hero/Anti-Villain/Neutral)
[b]Camp Alma or House X?:[/b]
[b]Electives:[/b] (Minimum of three subjects)
[b]Normal Appearance:[/b] (Picture if possible)
[b]In Costume:[/b] (If any)
[b]Abilities/Skills:[/b]
[b]Weaknesses[/b]:
[b]Personality[/b]
[b]Short Bio:[/b] (It can be short but make sure its detailed enough for people to understand)
[b]Theme song:[/b] (Optional)
[b]Any Additional Info?:[/b] (Optional)
Teacher/Hero Application
Note* All teachers must be veteran members of the ATA. They must have a history or at least share a deep past as heroes who have fought side-by-side with one another. Please don't forget to mention the what or why (reasons) they joined the ATA. RPers can only create ONE teacher char each.
Code: Select all

[b]Name:[/b]
[b]Alias:[/b]
[b]Species:[/b]
[b]Planet/Dimension of Origin:[/b] (if any)
[b]Age:[/b]
[b]Gender:[/b]
[b]Normal Appearance:[/b]
[b]In Costume:[/b]
[b]Abilities/Skills:[/b]
[b]Weaknesses:[/b]
[b]Notable Qualifications:[/b] (if any)
[b]Notable Achievements:[/b]
[b]Subject/Class Taught:[/b]
[b]Personality:[/b]
[b]Short Bio:[/b]
[b]Theme Song:[/b] (Optional)
Villain Application
Code: Select all

[b]Name:[/b]
[b]Alias:[/b]
[b]Species:[/b]
[b]Planet/Dimension of Origin:[/b] (if any)
[b]Age:[/b]
[b]Gender:[/b]
[b]Side:[/b] (Anti-Hero/Anti-Villain or just plain evil)
[b]Normal Appearance:[/b] (Picture if possible)
[b]In Costume:[/b] (If any)
[b]Abilities/Skills:[/b]
[b]Weaknesses[/b]:
[b]Notable Crimes:[/b]
[b]Personality[/b]
[b]Short Bio:[/b] (It can be short but make sure its detailed enough for people to understand)
[b]Theme song:[/b] (Optional)
[b]Any Additional Info?:[/b] (Optional)