After many years of attempting to - and failing at - creating a viable history for ASMV, I have come to a rather morbid realization. It is simply too big a project for me to finish and manage my now busy RL at the same time. The Empirical nature of my nation (a design I refuse to let go) has given me 53 states, provinces, and occupied zones, each with their own distinct history before becoming a part of the modern day Draggonnii Socialist Empire.
So what exactly does this mean? I need help in fleshing out the histories of my nation. And I am looking to the NS community for at least some of that help. In other words, any one of you can have the opportunity to help develop the pre-ASMV history and culture for different areas of my nation. This thread will remain open indefinately and any and all serious contributions will be given consideration. Nations of Atlantian Oceania will have more weight given to their ideas as it makes sense that my regional neighbors would stand to have the closest ties from history. Nations that I know and respect from other RP avenues, such as The Archregimancy, will be given more consideration that Nations I do not personally know. That does not mean all ideas from those nations will be taken automatically. It simply means they have an edge if all ideas are equally intriguing to me.
You will notice that some areas have already been reserved for myself, Starblaydia, and The Archregimancy. My own areas I have plans for. Starblaydia and I have worked on a shared history in the past and this is a way to tidy that up with a few minor changes at most. Arch's reserved area stems from a series of RP during World Cup play and I feel it necessary to finalize things on that end as well. All other areas are open for any one of you to toy with. Be as in depth or as casual with it as you wish, but do keep the ideas serious.
A few notes on some areas.
1. Undermountain and Stonengarten are Dwarven states and quite nearly reclusive in their dealings with anyone not a Dwarf.
2. Area names that are Vegan (Vay-gun) in origin (or extremely close in such) are notated by asterisks. Some names, such as Carrington and Isla De Marte are distinctly not Vegan.
3. Vegans are not 100% human. Elvish and Draconic ancestry comprise around 17% of the DNA structure of true Vegans. It is possible for other races to have their part in ancient history of an area. Example: Bears Armed is a nation of Ursine peoples. It could be feasible to create a shared history with Meldinburgh or surrounding areas where the general population is of much larger stature and men and women alike are extremely hirsute.
4. ASMV has recently emerged from a long stretch of isolationist rule that included a major social purge where most of the non-Vegan population were either exiled or eradicated. The percentages range from more than an 80% purge in most Eastern area to just over 40% in the less cultivated west. That means the numbers of natives who would share your ancestry will vary greatly, dependent upon the area you choose to work on,
5. All histories should be limited to no more than U.S. Civil War technologies at most with more emphasis being place on medieval and earlier technologies.
Modern flags for all areas and a national map have been provided to help you get a feel for things.
If you have any questions, feel free to ask them. Feel free to be creative and have fun. Just remember that this is a very serious outing on my part and the literal history of ASMV is at stake.
Thank you in advance for any and all of your ideas.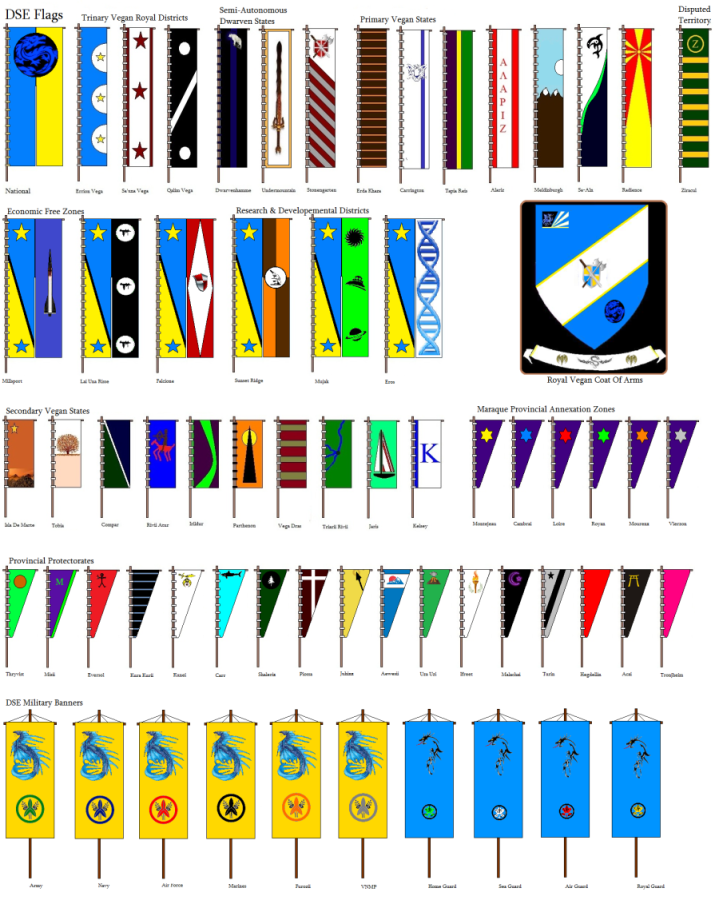 1-3 Errion Vega*, Sa'una Vega*, Qalim Vega* (ASMV)
04 Dwarvenhamme(Dwarf) - (Starblaydia)
05 Undermountain (dwarf)
06 Stonengarten (dwarf)
07 Erda Khaza
08 Carrington
09 Tapia Reis*
10 Alariz
11 Meldinburgh
12 Sa-Aln (Starblaydia)
13 Radience
14 Zirakul (ASMV)
15-17 Millsport, Lai Una Risse*, Falcione (ASMV)
18-20 Sunset Ridge, Mujak, Eros (ASMV)
21 Isla De Marte
22 Tobia (zwangzug)
23 Compar
24 Rivii Atur*
25 Irildur
26 Parthenon
27 Vega Dras*
28 Triari Rivii*
29 Jaris
30 Kelsey
31 Thryvist
32 Misii*
33 Eversol
34 Kura Kurii*
35 Kunei* (Starblaydia)
36 Carr
37 Shalerix
38 Piossa
39 Juhinx*
40 Aewesii*
41 Uza Uzi
42 Ifreet
43 Malachi (The Archregimancy)
44Turin (Valanora)
45 Hegdellin
46 Acai
47 Tronjheim
48-53 Montejeau, Royan, Loire, Mourenx, Vierzon, Cambrai (ASMV)