Unus pro omnibus, omnes pro uno
---
The Sacerdotal Kingdom of Airceltria greets the international community of the vast NS multiverse! For a long time we have willfully isolated ourselves from the world to pursue our own goals without the interference of outside forces. But now we have come to the descision that for us to move forward and proper we can no longer maintain our isolationist policies to how they are now. So we hereby invite you to establish a embassy within our nation, as a means of creating new relationships and establishing bonds between us and the many nations in the world. All nations without hostile intent and adhering to embassy guidelines laid out below are permitted to establish an embassy in the Kingdom of Airceltria. Your embassy will be built in our capital city, Airceltria (yes, the state shares the same name as the state). However you have the choice of which district in the city you wish to have your embassy built.
---
Diamondport
is the great aerial harbor of the city. It is in Diamondport that many airships that fly around our wonderful nation land when visiting the capital city. We also have landing pads for helicopters and VTOl capable aircrafts and it is in Diamondport that our only airlines have their runways. Pearlport is also a manufacture district of the city as many factories can be found in this part of town with the largest factory being one producing many of the nation's airships.
Diamondport also has many warehouses to store the goods delivered to and out of the city as well as office buildings for the many companies that own the factories. Banks are also spotted that work closely with their partnered industries and one can find many entertainment, commercial, and residential buildings in this part of town. The most common buildings in this part are the shophouses; buildings whose bottom levels are stores or restaurants but the upper levels are made for residential living with attics and basements made to store supplies used for their businesses.
---
Pearl-Gate
is the governmental district of the city. Pearl-Gate is close to the district where the Royal Palace lies, the entrance of which is also blocked by the extensive network of gates and walls. Pearl-Gate is large pseudo palace complex made up of many buildings ranging from sacred temples and fortified monasteries, modern office buildings and hotels, to traditional homes and apartments. This district is surrounded by many walls and gates with watch towers and garrisons built close by to patrol the district.
It is in this district that many members from the different councils and congregations enter to meet with each other to discuss important matters relating to the state. Also within this district is a great library that archives many important documents, film riles, disks, and other information deem important to both the nation and to humanity. Vaults containing important resources and critical state secrets can also be found in this part of the city.
---
Amethyst-Vale
is a primarily residential district, however many entertainment venues are also found in this district. In here many can find family homes, apartments, boarding homes, and even hotels waiting for eager occupants to stay the night. Because of the large population living in this part of town many shops and restaurants can also be found in here. The shophouses found on Diamondport can also be found in here
Entertainment options include theaters, arcades, concert halls, museums, art gallery, stadiums, recreational parks, bathhouses, brothels, and much more. If one arrives at the nation at the right time and day you can be allowed into the fairground to enjoy a seasonal fair that occurs in this district.
---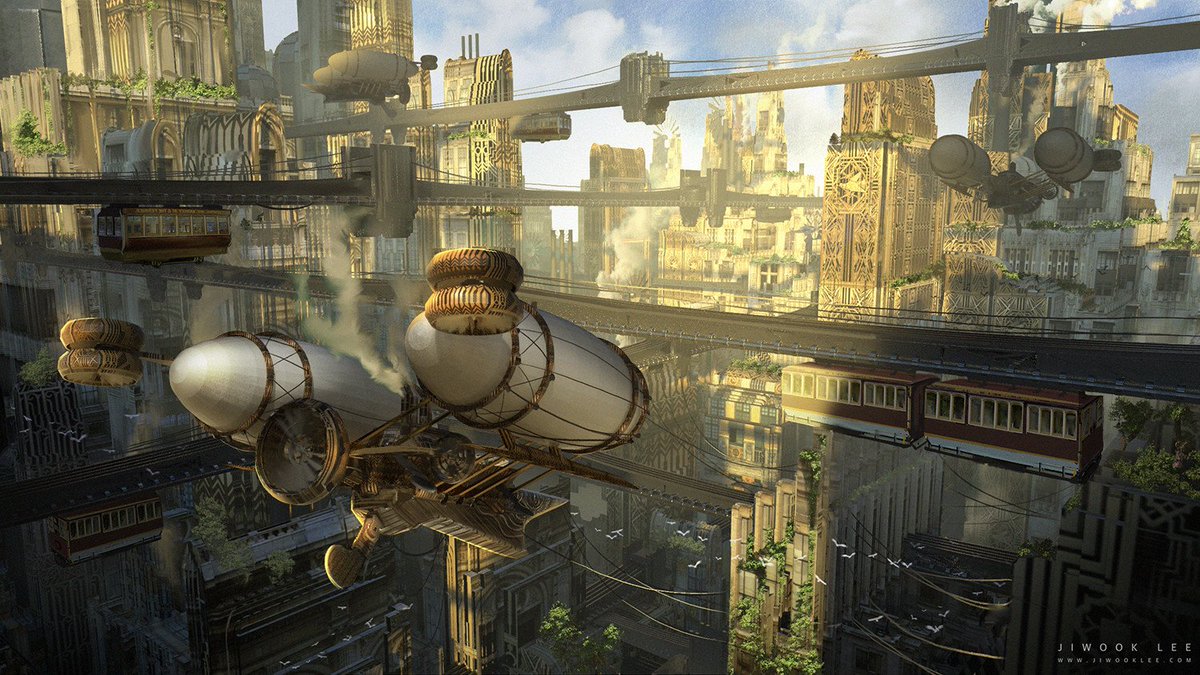 Amber-Towers
is the downtown district of the city. Like any downtown in the world you will find many office towers, busy streets, and people packed together both inside and out. Downtown features many residential and commercial buildings and with it being the most busy part of the town many entertainment options are also open in this part of town. This part of town is famous for it's elevated tram network and sky taxi that are used to easily move around in the district without ever once setting foot on ground. It is said that one can be born and live their whole life on this district without ever being on the street, one that is most likely true for those of noble blood.
---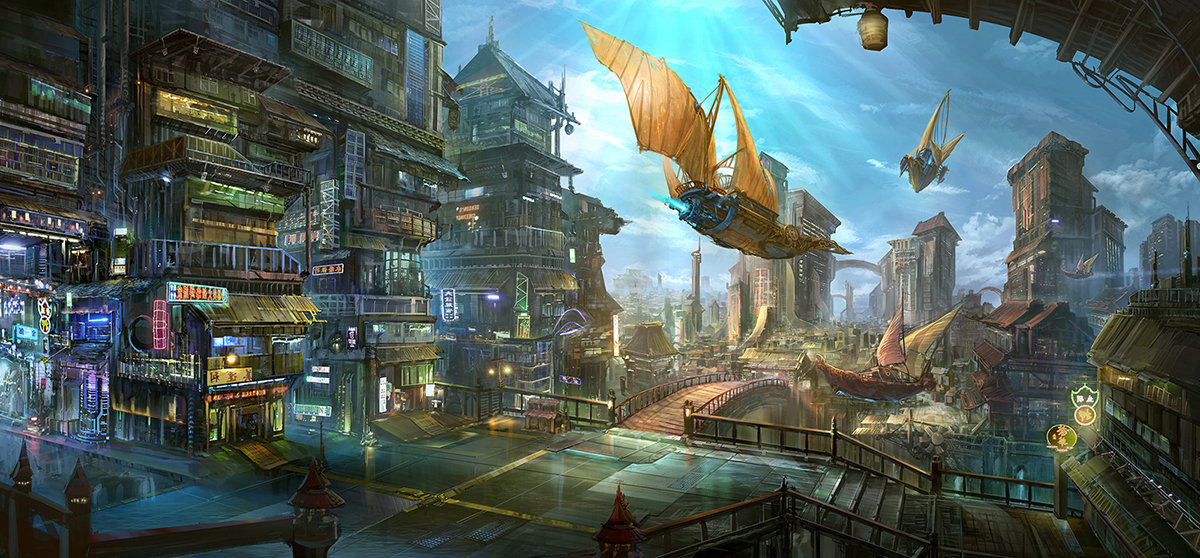 Emerald-Row
is the commercial district of the town. This mixed residential and commercial district is where one will find one will find not only the shophouses found in other districts but large shopping malls, amusement arcades, and many market places in the city. Almost everything one can find in Airceltria can be found in this district, legal or not.
This district is popular for tourists as they can buy many things. However it is also infamous for many scammers and conartists flocking to the district to trick unsuspecting tourists and in some occasions some malicious magicians have even sold items that were cursed, haunted, or even possessed. Law enforcement is always present to prevent such activities from occurring.
---
Ruby-Baston
is the military district of the city. In truth though most of the district is primarily made up of residential buildings with commercial and some industrial sites present. However this district is where the Final Stronghold, the largest and most secured, military base in Airceltria is found. Because of it's location both it and the city as a whole is closely guarded from all attacks and attempts of espionage. Members of the nation's intelligent agencies are have buildings made in this district of the city with members of both the militias and hunter's guild also having their headquarters made in this district.
---
Sapphire-Hill
is the academic district of the city. Many of the cities top academies and universities can be found in here as well as many temples and monasteries. Much like in Peralgate, a great library can also be found in this district, but this one is open to everyone unlike it's more restricted counterpart. Museum, libraries, observatory, and even zoos can be found in this district. In this district many students are taught both important secular and spiritual subjects, including magic should one wish to pursue the mystic arts.
In this district the views of Airceltrians when it comes to science, faith, and mysticism is very much present as all three are shown working in tandem with each other. In this district one can hear philosophers preaching their ideals as well as Malefic priests singing sacred hymns and preaching sacred prayers. Vocational schools are also present in this district and many masters of particular trades eagerly await new apprentices to train in whatever craft these students choose. It goes without saying that many shops are made for the students and many entertainment venues exist to provide these students a place to unwind from their busy studies. This district even has it's own police force, fire fighters, and hospital.
---
Royal Palace
, among it breaking the naming scheme that was present, is the heart of the city. It is in here where the palace belonging to all Auraroe resides. This part of the city is also known as the historical district as many old buildings and ruins can be found. Many of these cultural icons are protected by locals and government officials and many well known temples and monasteries are either within this district or are close by. Many important festivals and ceremonies are held within this district and it is in those times that one can see the Auraroe in person. However the recent Electa Auraroe has been known to venture outside of the palace on occasions so one can be lucky to meet her, and if not, than her daughters at least.
---
Embassy Rules and Guidlines
1) Embassy personnel will be a maximum of 50. Personnel can be brought from the Ambassador's home country or be hired locals for service staff. Diplomatic and Security will always be individuals from the Ambassador's home country both for practical and security concerns.
2) Vehicles are permitted into the country, as long as they are not armed and or heavily armored (such as tanks or APCs). One can also rent a vehicle in the nation if they wish and it will be theirs until they leave the country.
3) Security staff are limited to the following weapons (per person): - Two (2) handguns, One (1) automatic rifle, Three (3) other non-lethal or melee weapons (including, but not limited to: knives, batons, pepper spray, tasers). Those with arcane properties must be limited to five and those with physical and mental enhancements to 3 unless a majority of your people are enhanced, in such case your security staff must be limited to 8.
4) All Embassies and their grounds will be treated as the territory of the nation they belong to, with this sovereignty being respected by Airceltrian authorities. Evidence of embassy grounds being used to operate illegal activities may see this special status revoked by Airceltrian authorities.
5) Embassy buildings are restricted to a maximum of six stories in height with a maximum of one below-ground level. All embassies are granted the right to display their flag or other national symbols on embassy grounds.
6) All Embassy staffs are free to practice their beliefs within their builds and publicly. However showing disrespect against Malefic beliefs and practices, as well as violating sacred sites and artifacts is strictly forbidden.
7) Ambassadors and their staff are exempt from the following:
- Prosecution for any crime
- Fines
- Legal action, unless the host consents.
- Investigation, including arrest
- Community service and prison sentences
These rights can be revoked at the discretion of government officials if it is found that an ambassador or staff member is abusing the privileges granted to them or is consider to be a persona non grata by the accused individual's nation.
Final Order:
The government of Airceltria can reverse any accepted status of an embassy at our discretion and all staff present can be banished back to their home country.
---
---
Applications
Code: Select all

[spoiler=Embassy Application]
NATION INFO
— Nation Name:
— Nation Leader:
— Capital City:
— Government Type:
— Minister of Foreign Affair or Equivalent:

AMBASSADOR INFO
— Name of Ambassador:
— Family of Ambassador:
— Gender:
— Age:
— Language Spoken:
— Religious Belief:
— Are there any health or security issues local authorities should be alerted of?:
— Do they possess any augmentations or body enhancements?:
— Are they capable of utilizing supernatural forces?
— Additional Request:

EMBASSY INFO
— Location:
—— [ ] Pearlgate
—— [ ] Diamondgate
—— [ ] Amethyst-Vale
—— [ ] Amber-Towers
—— [ ] Emerald-Row
—— [ ] Ruby-Baston
—— [ ] Sapphire-Hill
—— [ ] Royal Palace
— Diplomatic Staff:
— Security Staff:
— Service Staff: (local or home country)
— Number and Type of Vehicles:
— Relationship Focus:
—— [__] Economy
—— [__] Education
—— [__] Military
—— [__] Technology
—— [__] Magic
—— [__] Other (please specify) ______________________
— Please declare any drugs, alcohol, fetish, animals or plants you are bringing into the country:
— Special Requests:

— Do you wish to establish our embassy within your country? if so, please copy the link here:
[/spoiler]