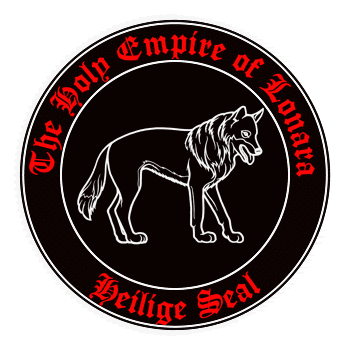 Official Imperial Communique
The Holy Empire of Lonara is pleased to now offer the chances for outside nations to establish embassies in its boarders.
The Holy Empire of Lonara is a Theocratic Kaisership under the command of Kaiser Heinrich Willhelm Metzgermeister II, sovereign. The Empire is an alpine country, made up of high elevation valleys and forests. The Empire has many beautiful natural resources, and is unspoiled as it prefers to maintain its main industries on the borders it shares with its Slavic neighbors. The Holy Empire of Lonara maintains a large military, and prides itself on being a safe country. Its Einsatzgruppen police are second to none.
We ask all nations to abide by the following: The Empire has acquired many plots of land located in what will be known as the Embassy District of Lonaranstadt, our capital city. Plots will all be 1 sq. acre, and the buildings themselves will be constructed by the nation establishing the embassy according to their specifications. Architects and related personnel may be hired from any nation, but manual labor and construction personnel must be hired locally. Staff, to include the ambassador and family, service and maintenance staff, and security forces are at the discretion of the establishing nation. However, no vehicle mounted armaments, nuclear/biological/chemical weapons, weapons using a caliber of greater than 7.62mm, and explosives will not be permitted. Weapons necessary for security (handguns, assault rifles, and armored vehicles) are permitted and encouraged. The embassy may maintain a private aircraft but must make The Empire aware of this fact. Also, helicopters are permitted in and around your embassy, but they may not be armed.
Please review and submit the application to establish your embassy in The Empire.
Application Form:

Full nation name:
Name of Head of State:
Name of Head of Government (if different):
Type of Government:
Name of Ambassador:
Will he/she bring family? (If yes, list):
Conditions to be aware of regarding family? (if any):
A Picture of your Ambassador:
A Picture of your Embassy:

Number of diplomatic employees:
Number of support employees (maintenance, cleaning, secretarial etc):
Will you hire locally for non-critical positions?

Number of security personnel:
Are they military/security service/other?
Number and type of weapons (include caliber):

Number of vehicles:
Vehicle make and model:

Are you willing to allow our airline travel to your nation?
Are you interested in perusing an alliance or trade agreement?
Are you interested in signing a non-aggression pact?

Special Requests:

Additional Notes:
OOC: Thanks to Monahatan for the template for the embassies.
Be prepared to engage in diplomatic RP.
Embassies established:
The Embassy of
Vesser
: Ambassador Kinga Dąbrowski
The Embassy of
Lancov
: Ambassador Vladimir Egarov
The Embassy of
Falke262
: Ambassador Jaden Kantner
The Embassy of
Munichburg
: Ambassador Jossef Heins
The Embassy of
Rusikstan
: Ambassador Jeremiah Milenstrovski
The Embassy of
Churchilland
: Ambassador Anna Leigh
The Embassy of
The Fossilands
: Ambassador Ororo Fiere
The Embassy of
Min Nan
: Ambassador Koh Kok Siong
The Embassy of
Nieu Danmark
: Ambassador Jennifer Lansing
The Embassy of
Kriania
: Ambassador Torov Takas
The Embassy of
Banchao
: Ambassador Eugene Francois
The Embassy of
Khytenna
: Ambassador Felx Decker
The Embassy of
Nazi Centauri
: Ambassador Eric Guntherferson
The Embassy of
Noordeinde
:
Ambassador Sir Eberhart Johnson
The Embassy of
Platinea
:
Rodrigo Luder
The Embassy of
Ceannairceach
:
Ambassador Kerra O'Neil
The Embassy of
Dinosians
: Ambassador Daube'Vocu
The Embassy of
Aldarminia
: Ambassador Idnan Velesoz
The Embassy of
The Resurgent Dream
: Ambassador Odd Ibsen
The Embassy of
Haiz
:
Ambassador Haizes III
(The Embassy is located in the shadow of the Southern side of the Wulfgesischt)
The
Embassy
of
Shadirland
:
Ambassador Vice-General Patrick Horan
The Embassy of
Zeorus
: Ambassador Clarice Young