((OOC: Anyone who establishes an embassy, please be prepared to participate in diplomatic RP.))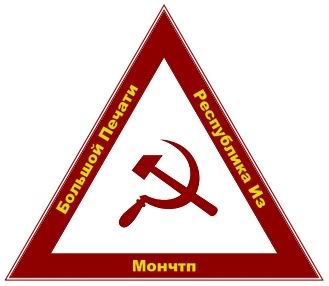 Government Communication
---
To:
Open Communication
Fr:
The Republic of Monahtan, Ministry of International Affairs
Re:
Embassy Program
---
The Republic of Monahtan is proud to finally offer the world the chance to establish embassies in The Republic.
The Republic of Monahtan is a Constitutional Democracy (despite "republic" in name) with Premier Vadim Mikhailov serving as the head of state and head of government. We're a peaceful nation but maintain a powerful military for defense of our nation and that of our allies. We offer humanitarian aide to those nations that need it. The Republic operates a corporate shipping, transport, and cruise line business know as the Crimson Star Line. Any nation wishing to establish an embassy in The Republic is encouraged to do so.
We ask all nations to abide by the following: The Republic has acquired many plots of land located in what will be known as the Embassy District of Finestra, our capital city. Plots will all be 600 x 600 feet, square and the buildings themselves will be constructed by the nation establishing the embassy according to their specifications. Architects and related personnel may be hired from any nation, but manual labor and construction personnel must be hired locally. Staff, to include the ambassador and family, service and maintenance staff, and security forces are at the discretion of the establishing nation. However, no vehicle mounted armaments, nuclear/biological/chemical weapons, weapons using a caliber of greater than 7.62mm, and explosives will not be permitted. Weapons necessary for security (handguns, assault rifles, and armored vehicles) are permitted and encouraged. The embassy may maintain a private aircraft but must make The Republic aware of this fact. Also, helicopters are permitted in and around your embassy, but they may not be armed. Snipers and counter-snipers may be utilized at the operating nation's discretion, but must be strictly monitored.
Diplomatic immunity will apply for the Ambassador and immediate family, consular staff, and senior security personnel. Immunity will prevent those mentioned from being arrested, but they may be detained for a brief period. They may not be subpoenaed or compelled to give testimony, or civilly prosecuted. Diplomatic immunity does not cover traffic violations and those laws must be obeyed. If a member of diplomatic staff commits a violation that would be a felony under normal circumstances, The Republic will request the home nation immediately withdraw that person or persons. If a member commits a violation classified as a misdemeanor, The Republic reserves the right to request withdrawal of that person by the home nation. All other employees of the embassy will be subject to Republican laws while outside the embassy grounds. Foreign military personnel are not granted diplomatic immunity except in times of national crisis by the operating nation.
Foreign officials, staff, and military personnel will be free to move through The Republic at their will. We ask only that all personnel carry their passports and official credentials with them at all times while outside the embassy grounds. There is no requirement on foreign military uniforms or civil service uniforms when outside embassy grounds and personnel may adhere to their home country's regulations regarding proper attire in a foreign country.
In the event of an attack on a embassy by an entity not belonging to a sovereign nation, The Republic will provide defensive assistance if the operating nation requests such. They reserve the right to refuse Republican intervention inside embassy grounds. Security and defense outside embassy grounds remains the responsibility of The Republic.
Should a sovereign nation attack an embassy, defense outside embassy grounds will be the responsibility of The Republic and The Republic will consider any such act an act of war by the attacking nation should military units enter Republican territory without authorization.
If an operating country moves military units or detachments outside embassy grounds to Republican-controlled territory without express authorization, The Republican will respond with force and all diplomatic staff will be immediately expelled.
Please review and submit the application to establish your embassy in The Republic.
Application Form:

Full nation name:
Name of Head of State:
Name of Head of Government (if different):
Type of Government:
Name of Ambassador:
Will he/she bring family? (If yes, list):
Conditions to be aware of regarding family? (if any):

Number of diplomatic employees:
Number of support employees (maintenance, cleaning, secretarial etc):
Will you hire locally for non-critical positions?

Number of security personnel:
Are they military/security service/other?
Number and type of weapons (include caliber):

Number and type of vehicles (APCs, executive transport, etc):

Special Requests:

Additional Notes: