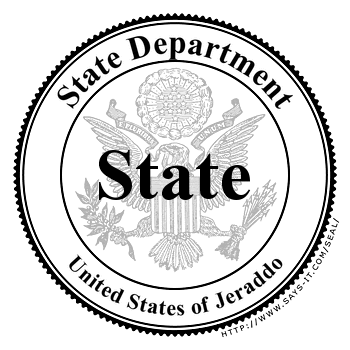 Diplomacy is the basis of peace, however things do not always go that smoothly and a basis of Diplomacy is a guard against the darkness. Therefore, the United States of Jeraddo re-opens it's Embassy Exchange program and welcomes nations with open arms to set up a Embassy in Jeraddo. Please read the following Rules and Regulations before applying.
Rules and Regulations
-Embassies must not be more than three stories high.
-Embasies must not be used as a base for Espionage and/or Terrorist acts against the United States.
-Diplomatic Staff must not Exceed 10 Personnel.
Security Detachment must not exceed 50 Personnel.
-Support Staff must not Exceed 50 Personnel.
-No weapons larger than Assault Rifle are permitted.
-No Explosives are permitted.
-No Weapons of Mass Destruction are permitted.
-No more than six Vehicles (Un-armed)
-No More than Two Helicoptors (Un-Armed)
-Diplomatic Immunity is granted to the Ambassador and
Diplomatic staff
only, all support and Security staff are subject to Jeraddo law whilst outside the Embassy compound.
Embassy Location Information
Betreka City
The Capital of the United States, a busy, Vibrent city. The Embassy sector is located a stones throw away from the best Entertainment that Jeraddo has to offer, as well as all ammenities needed for daily life, and more. The Embassy sector is close to most Government Departments, as well as the White house.
Diplomcy Avenute
1. The United Kingdom of Groko
2. The Kingdom of Mirnect.
3.
4.
5.
6.
7.
8.
9.
10.
11.
12.
13.
14.
15.
16.
17.
18.
19.
20.
Port Acludia
The Port of Acludia is a beautiful city on the north coast of Jeraddo, and is Jeraddo's second city. The Embassy Sector is located in prime location near to, but not in, teh Downtown area, and is close to almost all Government branches.
Ambassadorial WAy
1. The United States Of Ewa Beach
2.
3.
4.
5.
6.
7.
8.
9.
10.
11.
12.
13.
14.
15.
16.
17.
18.
19.
20.
Application
Full Name Of Nation:
Type of Government:
WA Classification:
Political Rights Rating:
Civil Rights Rating:
Name of Head of State
Name of Ambassador:
Ambassadors Family:
Requested Location:
Details on Embassy Construction/Format:
Diplomatic Personnel (10):
Support Personnel (50):
Security Personnel (50):
Type of Weapons:
Type and Number of Vehicles:
Type and Number of Helicopters:
Any Special Requests?: