This page or section

is in the middle of an expansion or major revamping

. You are welcome to assist its construction by submitting a telegram to its author.
---
United Star Empire of Valinon

Flag

Coat of arms

National motto:

The Stars never set on the Empire
Die sterne nie eingestellt auf das reich




Capital:
Official language(s):

Imperial English
Imperial German
Dominionite Japanese
Old Russian
Noldorin Sindarin

Government: Imperial confederation
& de facto constitutional monarchy

Empress: Friedelinde I
Prime Minister: Faustus von
Metternicht

Legislature

Diet of the United Star Empire

Amalgamation

Valprieza Articles
(1 Imperial Alderman Calendar,
First Empire)
Declaration of New Köln
(279 IAC, Second Empire)
Convention of Yalta
(1647 IAC, Third Empire/
United Star Empire)

Population
GDP (PPP)

Total: $846 trillion
Per capita: $45,949

Currency:
The United Star Empire of Valinon
, more commonly referred to as Valinon or the Star Empire, is a sovereign state with territory in the Milky Way Galaxy's Alpha and Beta quadrants. The nation includes seven star systems, a colony in a jointly held system, territorial possession in the Sol System, and a network of dependencies scattered throughout the Milky Way. Valinon's home star system is
Alpha Centauri
, located 4.37 light-years from Sol.
The empire is a confederation governed by a
de facto
constitutional monarchy and a parliamentary system. The seat of government is located in the capital city of New Köln. The confederation consists of eight distinct dominions with separate devolved governments. Each dominion possesses varying powers. Some of the dominions were formerly sovereign states and others were former crown colonies. Valinon's influence can still be observed in the cultural and legal systems of nations that were once part of its territory, including several star systems that are now part of the
Imperium of Vernii
.
The empire is a developed nation with a near post-scarcity economy. It is the only indigenous interstellar power to emerge from the Alpha Centauri system and now claims that system in its entirety. It is a foremost power in the
Raumreich Oversector
and a power in certain areas of Sol. Its military expenditure ranks first in the Raumreich and is among the highest in the Milky Way Galaxy. The empire is a member state of the League of the Raumreich, a permanent member of the League's Directory for Security and Stability, and a member of the Galactic Postal Union,
Knootian International Stabilisation Treaty (KIST)
,
Mangalan Accords
,
Mars Defence Initiative (MDI)
,
Martian Free Trade Agreement (MFTA)
, and the
Martian Port Authority (MPA)
.
Table of Contents





I.

History


Section Under Construction




1.1 Colonial Valinon
1.2 The First Empire
1.3 The Collective Wars
1.4 The Second Empire
1.5 Gregor Sector War
1.6 The False Peace
1.7 War of the Lion
1.8 The Third Empire
1.9 The Great March War
1.10 Pax de Raumreich

II.

Astrography


Basic Article Complete, Additional Links Pending




III.

Demographics


3.1 Languages
3.2 Religions
3.3 Education
3.4 Healthcare
3.5 Sentient Intelligences

IV.

Politics


Basic Article Complete, Additional Links Pending




4.1 The Monarch
4.2 The Executive
4.3 The Legislature
4.4 The Judiciary
4.5 Political Parties
4.6 Constitutional Reform Mechanisms

V.

Economy


Basic Article Complete, Additional Links Pending




5.1 Export Economy
5.2 Stock Exchanges & Indexes
5.3 Major Economic Groups
5.4 Labour Organisations & Unions

VI.

Military


6.1

Section Under Construction

VII.

Science & Technology


7.1

Section Under Construction

VIII.

Culture


8.1

Section Under Construction

IX.

Addendums & Errata


9.1

Section Under Construction

X.

Acknowledgments & Mechanics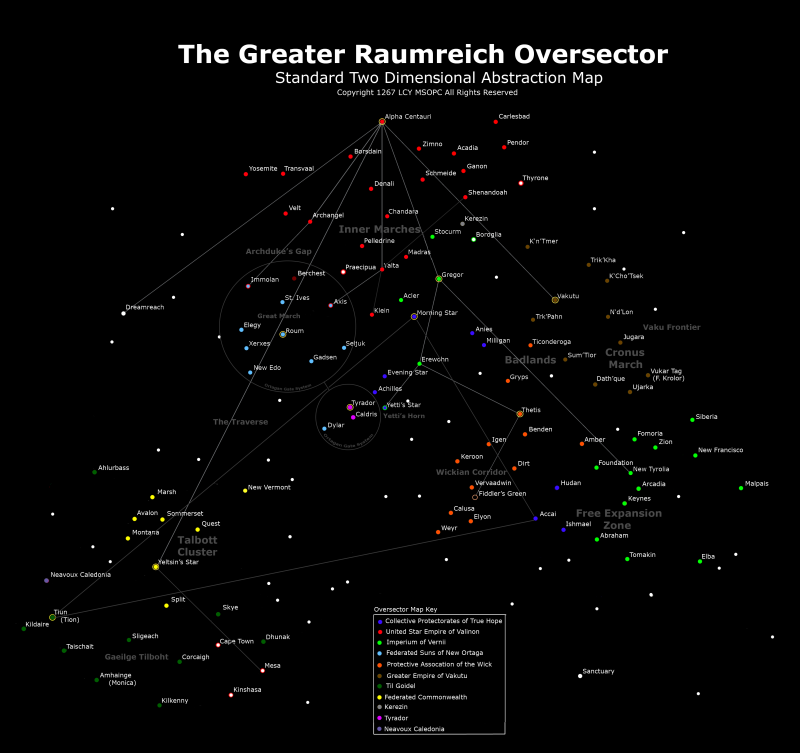 Map of the Greater Raumreich Oversector, 1710 IAC
Click to access full-sized map
This fact book is an experiment in a hybrid format using text posted to the Forums and links to a selection of public Google Documents I am maintaining. While it is my intention to also use this thread as a place for an on-going question and answer session about Valinon, it is not completed enough for that to be a reality.

Therefore, I request that no other parties post in this thread until this stipulation is rescinded closer to the completion of this project.

Other replies will be deleted via the usual mechanism until then, but feel free to send a TGram during the interim period.

Respects & thanks in advance,

Valinon