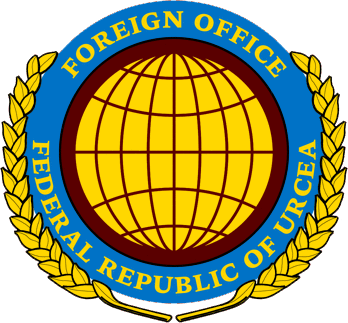 Although the Federal Republic of Urcea has had a system of de facto consulates for a number of years, President Nero has issued an executive order calling for the reorganization of several Federal agencies that dealt with foreign relations into one new Federal Department - the Foreign Office. The Foreign Office has deemed it necessary to begin the process of building formal embassies with foreign nations in an attempt to build cooperation and understanding with foreign nations.

All nations, regardless of political status or relations with Urcea, are invited to apply for an embassy within the Federal Republic of Urcea.
--
Following the creation of the foreign office, five levels of the
Imperial Palace
previously being used for storage were made available to the Foreign Office for use as embassies. The floors were refurbished to conditions befitting the prestige of the building, and certainly fitting to host foreign dignitaries.
51st Floor
:
[empty]
52nd Floor
:
[empty]
53rd Floor
:
Numuria
(Ambassador: Luiz Braganza)
54th Floor
:
[empty]
55th Floor
:
[empty]
--
National Factbook
--
All potential applicants, upon the request of Foreign Minister Leidel Verne, must fill out the following application.
Code: Select all

Nation Shorthand Name:
Full Nation Name:
Primary Language:
Primary Religion (if none, leave blank):

Head of State:
Government Type:
Foreign Minister (or any equivalent):
Name of Chief Ambassador to Urcea (or any equivalent):

Relations with Urcea (if none, leave blank):
Diplomatic Personnel:
Security Personnel (no more than 75 armed):
Types of Weapons:
Vehicles (there is nearly limitless parking space, but we request no more than five armored/armed vehicles):

Extra Requests?:
Would you prefer if Urcea also established an embassy in your nation?:
Requests for treaties should be filed using the following form. Before asking for a treaty, it is required by Foreign Minister Verne that an embassy be first established:
Code: Select all

Treaty Type (Trade/Military/Political/Research/Other):
Treaty Terms:
Treaty Duration:
Reason for Treaty: