What is their equipment? When are they deployed? Are there any restrictions on their tactics? What are their tactics? Did they take part in any situations that you'd like to discuss? etc.
-The "Special Situations Taskforce" (SST) branch of the imperial police force was founded in response to the great riots of 1904 that ravaged several major cities including the capital, Krieg. They would later play a key role in stopping the 1919 riots. The SST are deployed whenever a demonstration or protest erupts into physical violence.
-The standard kit of every operator is full body ballistic armor with helmet, gasmask, riot shield, baton, tear gas grenades, and Type 15 Pistol. Depending upon the situation, specialists armed shotguns, rifles, or other specialized equipment. Medics are present in every squad.
-Non-lethal tactics are used in every situation. Unless a massive loss of life is clearly imminent, lethal tactics and equipment are strictly prohibited. Shield walls are the most common formation employed, the goal of which is to slowly advance and disperse rioters. In riots where "leaders" or persons who are enabling more rioting are present, five man "snatch" teams of two operators with batons will advance behind three operators with reinforced shields towards the individual, the operators with shields will form a small perimeter while the other two operators subdue and handcuff the individual, at this point they, the shield bearers will then cover their retreat to the shield wall.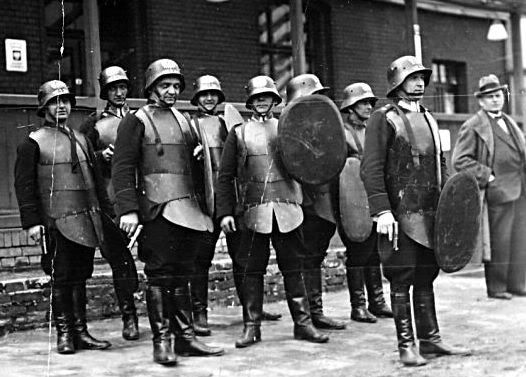 NOTE: The nation of Triclips is technologically in the early 1900's