This is currently a WIP
note:
ctrl+f to jump to a specific spot
Cursory Information
Nation Name(s):
The Socialist Queendom of Apanii, Apanii, The Queendom of Apanii
Nation Capitol:
Niitsitapi City in Queen's Province
Largest City:
Niitsitapi City
National Colors:
red, black, white, yellow
Coat of Arms: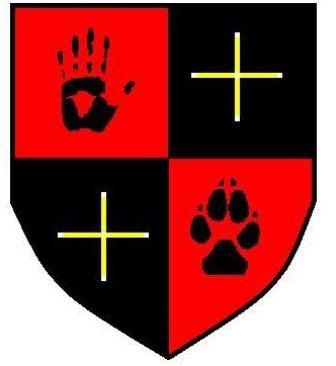 Monetary Unity
Ket. plural, kets. Symbol:
K
. Written after the amount (ex 50,000
K
)
Form of Government:
Socialist Matriarchal Monarchy
National Animal:
Timber wolf/Grey Wolf
National Flower:
Yellow Smooth-stemmed evening star
National Tree:
Lodgepole pine
National Religion:
Apanii has no official national religion or spirituality, but the Apaniian calendar follows Apaniian Blackfoot spirituality (for the most part)
National Anthem:
"Blessings On Apanii"
May the sun never set on Apanii
Oh beloved motherland!
May we ever be blissfully free
And thrive by our own hand!
Warriors of Spirit
Long shall our Queen reign!
Trouble, we do not fear it
Long shall we remain!
Apanii home of the true!
Humble Warriors all
We will live and die for you!
Apanii we heed your call
Other Major Religion(s):
85% Apaniian Tribal Spiritualities
(ie Apaniian Blackfoot, Apaniian Cree, Apaniian Haida, Apaniian Lakota etc) note: there are far too many tribal spiritualities in Apanii to list all of them and as such, they are listed only as "Apaniian Tribal Spiritualities." The national calendar mainly follows the Apaniian Blackfoot holidays with other holidays of significance added in.
6% Other Polytheistic Spiritualities/Religions
of that 6%:
- 25%Kemetic
- 20% Hellenic
- 15% Druid
- 15% Other
- 5% Shinto
0.5% Hindu
of that 0.5%:
-50% Shaktism
-20% Shaivism
-15% Ganapatya
-15% Ananda Marga

1.5% Buddhist:
of that 1.5%:
90%: Fuke Zen
5%: Obaku
5%: Nipponzan Myohoji
3% Abrahamic Spiritualities/Religions
of that 3%:
25%: Quakers/Religious Society of Friends
9%: Apaniian Traditionalists for Christ
8%: Unitarian Universalism
8%: Apaniian Haredim
8%: Karaite Judaism
7.1%: Baha'i
7%: Apaniian Pentecostal
7%: Qadiri Islam
6%: Universal Sufism
5.9%: Apaniian Jewish Renewal
5%: Apaniian Orthodox Catholic
4%: Twelve Tribes of Israel Rastafarianism
4% Other
(not categorized by the Apaniian Census Bureau)
Of that 4%:
80%: Deism
9%: Atheist
5%: Wiccan/New Age
5%: Church of the Flying Spaghetti Monster
1%: Agnostic
Official Language(s):
Piegan dialect of the Blackfoot
language
, Apaniian English (a conglomeration of borrowed words from various tribes, American English and Apaniian slang)
Other Language(s) Spoken:
Various tribal languages, American English
Ethnic Makeup:
90% descendants from North American Indigenous tribes, including those of two or more ethnic backgrounds
5% "Other" Indigenous descendants (not from North America)
2% Caucasian/White [largest groups: French descent, Irish descent and German descent]
2.5% non-indigenous "other"
0.5% Black ("Black" includes all non-indigenous peoples of probable African/Afro-Caribbean origin. Black Americans would fall into this category)