BBC
-
Saudi Arabia freezes Canada trade ties for urging activists' release
https://www.bbc.co.uk/news/world-middle-east-45079682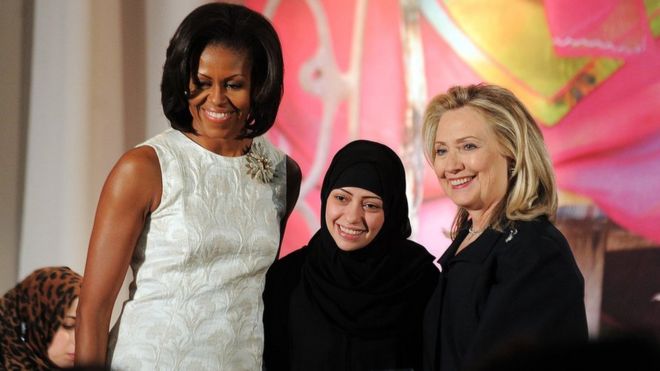 Samar Badawi, pictured here with Michelle Obama and Hillary Clinton, received an International Women of Courage Award in 2012
Saudi Arabia has said it is freezing all new trade with Canada and expelling its ambassador over its "interference" in the kingdom's domestic affairs.
A Saudi foreign ministry statement said it considered Canada's call last week for the release of detained civil society and women's rights activists a violation of Saudi sovereignty.
Those held include the Saudi-American human rights campaigner Samar Badawi, sister of jailed blogger Raif Badawi.
Canada said it was seeking "clarity".
However, foreign ministry spokeswoman Marie-Pier Baril stressed that Canada would "always stand up for the protection of human rights... including women's rights, and freedom of expression around the world".
Hold the line Canada. The free world is with you. We are coming.