"This is an S.O.S. distress call from the mining ship Red Dwarf. The crew are dead, killed by a radiation leak. The only survivors are Dave Lister, who was in suspended animation during the disaster, and his pregnant cat, who was safely sealed in the hold. Revived three million years later, Lister's only companions are a life-form who evolved from his cat, and Arnold Rimmer, a hologram simulation of one of the dead crew. Message ends."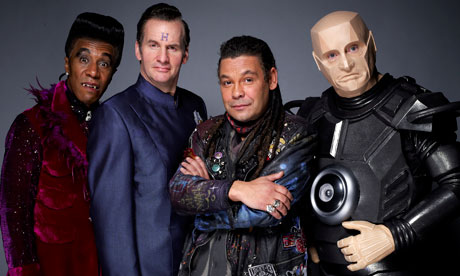 Red Dwarf, the British Comedy sensation that ran from 1988 to 1999, returned in 2009 and then again in 2012 for series 10.
The show follows the life of David Lister, the sole survivor of the crew of the mining ship, Red Dwarf, and his journey back to Earth. He is helped, or more often hindered, by Arnold J Rimmer, a Hologram of Lister's bunkmate, a creature evolved from cats, known as Cat, Holly, The Shipboard AI, and Eventually Kryten, a Mechanoid rescued from a crashed ship.
One of Britain's classic comedies the show has many fans, known usually as Dwarfers, So, all you Dwarfers come in. Discuss your favourite Episode, theorise how Lister could have his appendix out twice or speculate on the future of the Show. Those of you who aren't fans are free to come too if you're curious, I'm sure we can show you why Red Dwarf is so great.