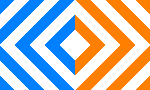 ---
Who are you guys, anyway?
Sophia is a relatively new - but nonetheless thriving and democratic - region with a focus on helping its residents grow and develop their wisdom, whether practically or in theory. As of time of writing (early November 2021), it has about 130 members, of which about 45 are in the World Assembly and therefore possess citizenship.
Tinhampton is the Philosopher-Queen (founder); she is also the President (WA Delegate), and currently has 38 endorsements. Zamnico is the Prime Minister, responsible for overseeing and maintaining order in the Council, Sophia's regional legislature which is comprised of all citizens. Yoyoyoyoyo is the Foreign Minister, responsible for building and developing interregional embassies, treaties and relations. Yofflandia is the Entertainment Minister, responsible for fun regional games and roleplay. Freestateland is the Emissary for Civil Rights, responsible for promoting fundamental civil rights across the multiverse.
The individuals listed above have largely been freely elected, and together make up the government of Sophia. All citizens of Sophia are invited to help each of the five members of government in accomplishing their jobs as such.
---
Index of Government Announcements

(and similar)
Coming soon